CEN-CENELEC Work Programme 2017
13.01.17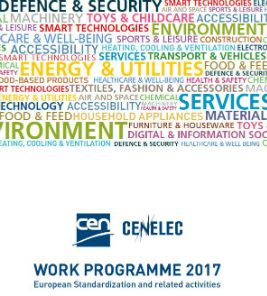 The CEN-CENELEC Work Programme provides an overview of the most important standardization activities that will be supported by CEN-CENELEC during 2017. It also includes information about 'Outreach activities' in relation to SME participation, including societal stakeholders, education about standardization, research and innovation, and international cooperation.
These activities respond to market needs, and are closely aligned with the priorities of the 'annual Union work programme for European standardization for 2017', which was adopted by the European Commission in June 2016.
The CEN-CENELEC Work Programme is intended as a source of information and inspiration for stakeholders, who are encouraged to get actively involved in contributing to European standardization activities – either at national level or at European level.
The Work Programme can be found in the 'Publications' section of the CEN-CENELEC website.